Surely adding lewds into a game can only make it better, right? Well, no. Certainly not back in the early 90s, when the games that porny publisher Hacker International were spunking into the Japanese market were already weak gaming experiences. Adding a poorly-drawn schoolgirl who looks like she's been hit by a bus just adds insult to injury.
None of the games Hacker published for the NES are especially amazing. A couple are alright, at least. But aside from that we've got a big pile of meh. That is, until you take a look at Pyramid Cleopatra Kiki Ippatsu, and you realise that God has truly forsaken us.
The original game of Pyramid was made by Thin Chen in Taiwan and was sold in Asia (predominantly China) in 1990. This game did not include any lewds (Thin Chen were not averse to adding them into their games) and was essentially a Tetris rip-off. It goes a little further than most Tetris clones though, by making all the pieces triangular as opposed to, you know, shapes that aren't notoriously difficult to fit together.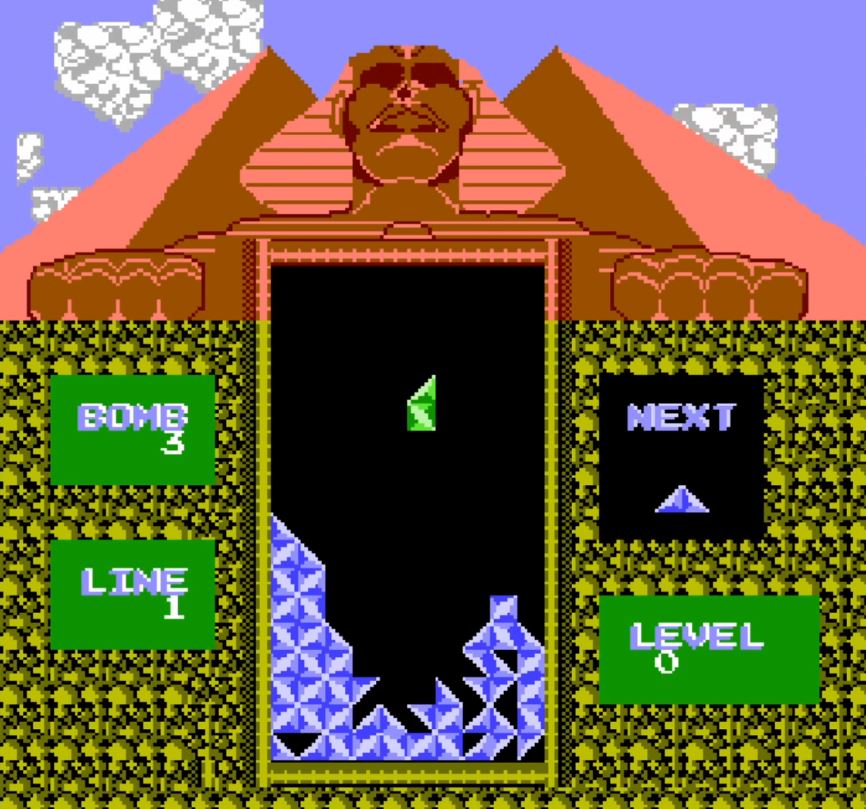 I can't really express well in writing how awful this puzzle game is. It really is so bad, I have never in my life being so deeply angered when playing a puzzle game. It's unfair, it's visually unappealing, the gameplay is forced to be slow to progress because you can't ever clear more than two lines at once, and some of the pieces don't even fit together with themselves never mind the other ones.
But hey, never mind this is possibly the worst puzzle game ever made – that didn't stop American Video Entertainment from buying the rights to publish the bastard in America.
Well, I do hope you enjoy the video better than I enjoyed playing the bloody game.