Now if we are going to be absolutley fair, the Atari 2600 was absolutely primed with bizzare games. When you've got so few grapics to work with, things are going to be left to the imagination and when that's on the table, things are going to get freaky. That's what us retro gamers are all about – we are total freaks.
But the 1983 game I Want My Mommy, released by Zimag (not developed by them though) pushes that distinction a bit. It's just weird, isn't it? Kids that still say "I Want My Mommy" probably aren't going to be picking up an Atari 2600 controller. Or are they? My niece is two years old, the best she would do with an Atari 2600 joystick is to sort of gum it a bit and then put it in the vegetable drawer.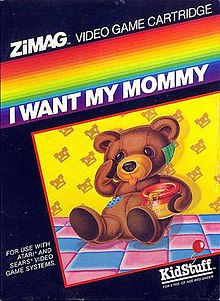 Slightly creepy box artwork aside, the whole concept it a bit retch-inducing. You're a teddy bear trying to get to his mommy in a nasty evil dreamworld, where there's nasty evil demons trying to stop him (why? Just to generally be bastards?) and once he gets to mommy he's going to get a great big hug and a kiss.
The power-up that flashes onto the screen occasionally is supposed to be "mommy's special kisses" which, rather than utterly repulse teddy as they should do, give him invincibility against the evil demons. It's just a bit tacked on, isn't it? But after spending far too long researching it all, I'm very sure this wasn't the original game. I Want My Mommy was very clearly ripped from another game.
The full video about it is below. Mental breakdowns included. It's all good.
I'm a big fan of the bizarreness of some of these especially retro games, so if there's anything mental you'd like to see me cover let me know in the comments. The weirder the better, because like I said, us retro gamers are freaks.